We have created our community to provide a warm, supportive neighborhood where kids can enjoy our common greenspace while the adults sit and chat, where common meals and frequent gatherings increase our feeling of extended family. We have 26 households and opened in July 2000 ( Phase 1 North side) and May 2001 ( Phase 2 South side & common house). The North side contains mostly 2 bedroom townhouses constructed as duplexes and three 3 bedroom townhouses, and the South side contains a mixture of 3 bedroom townhouses and 1 and 2 bedroom flats. Please note that homes include the home and 1/26th of all commonly owned land and facilities, including the 3,400 sq. ft. common house, the 1 acre wetlands and bird sanctuary, play areas, parking, community garden, a woodshop, and more. The North and South sides are connected by a short footbridge over our stream and wetlands.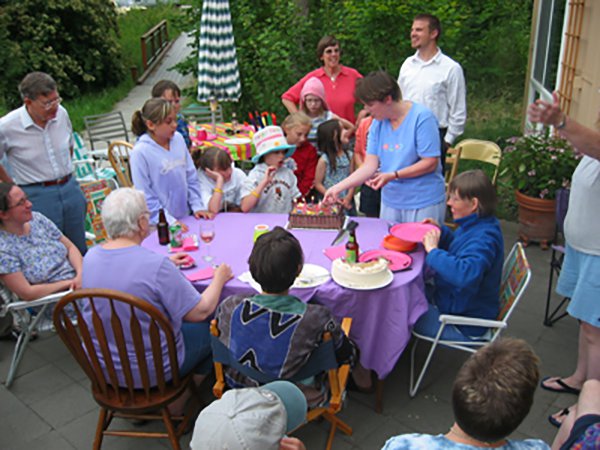 Cohousing — a new take on an age-old impulse — started in Denmark 30 years ago, came to the U.S. about 20 years ago, and is gaining enthusiasts in every state. Private home ownership along with shared common ground and facilities draws people who are looking for more connection, and the opportunity to share and to learn.
"These cooperative neighborhoods are one of the most promising solutions to many of today's most challenging social and environmental concerns," says the Cohousing Network.
On this site you will find information on our community. Get to know our place by scanning our website, and coming for a visit. If you are new to the co-housing concept, find out more information through our co-housing links.
Is there more you wish to know? Or do you want to meet us in person? Contact us via email, letter or phone — we'd be happy to talk with you!